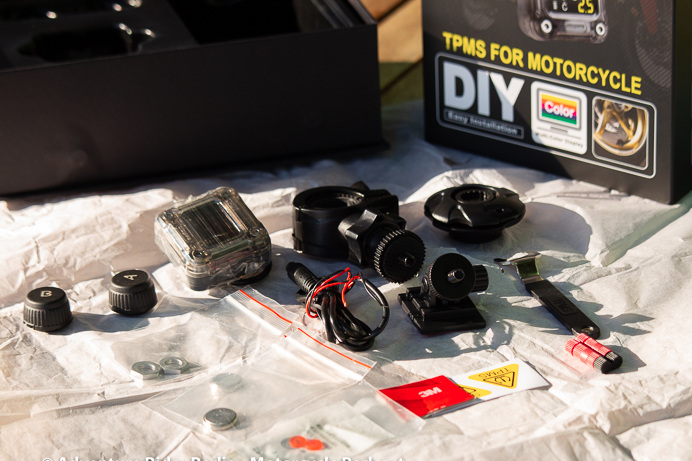 Above Images: Darryl VanNieuwenhuise
Fit2Go TPMS - Michelin Tire Pressure Monitoring System
Fit2Go TPMS detects the loss of pressure, leaking and temperature increases in tires.
Review by Jim Martin, show host.
Note: May 2 2019 - Fit2Go informs us that it is awaiting FCC and Industry Canada approval to sell in North America, which should be happening very soon.

Website: https://fit2gotpms.com/michelin-tyre-pressure-monitoring-system-bike-fit2go-tpms/

Chris Keeble & Calamity Jane
Chris Keeble has been riding for most of her adult life, and her motorcycles are an extension of herself and her creativity. After riding Harley Davidsons for over thirty years, she longed for an Indian motorcycle, and made that dream a reality when she got a Vintage Indian Chief. She's customized the big bike to reflect her vibrant and vivacious personality, and every weekend does a theme ride in search of churches, graveyards, water or a particular color. At 60 years old, Chris is planning to travel around the world when she retires. She's an inspiration to all of us, reminding us that adventure can happen at any age, you just have to do it.
Website: https://www.theaussie-theindian.com
Above Images: Chris Keeble
Music Credits:
Artist: artemisstrong
Title: I Think I Started A Trend (Instrumental Mix)
http://ccmixter.org/media/files/artemisstrong/12517
Artist: house
Title: Greasy Wheels
Artist: AUDIONAUTIX.COM
Title: ROCK INTRO 1
Artist: BoxCat Games
Title: B-3
http://freemusicarchive.org/music/BoxCat_Games/Nameless_the_Hackers_RPG_Soundtrack/BoxCat_Games_-_Nameless-_the_Hackers_RPG_Soundtrack_-_04_B-3
Artist: Skill_Borrower
Title: Klaus (ft. Klaus_Neumaier)
http://ccmixter.org/files/Skill_Borrower/41751
Artist: Jason Shaw
Title: BOXCAR RAG
AUDIONAUTIX.COM
Artist: Jason Shaw
Title: SONIC SIGNATURE 2
AUDIONAUTIX.COM