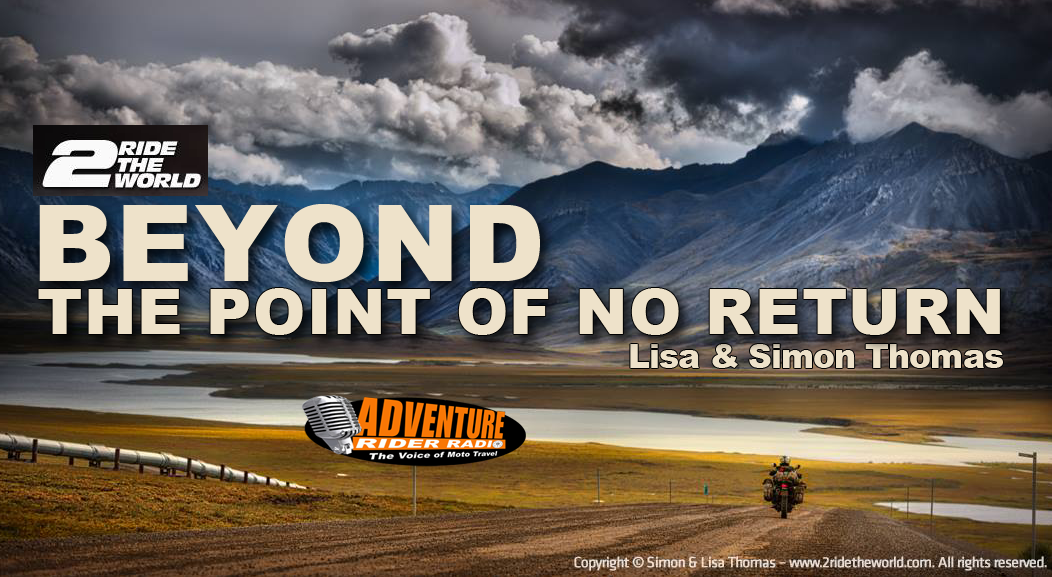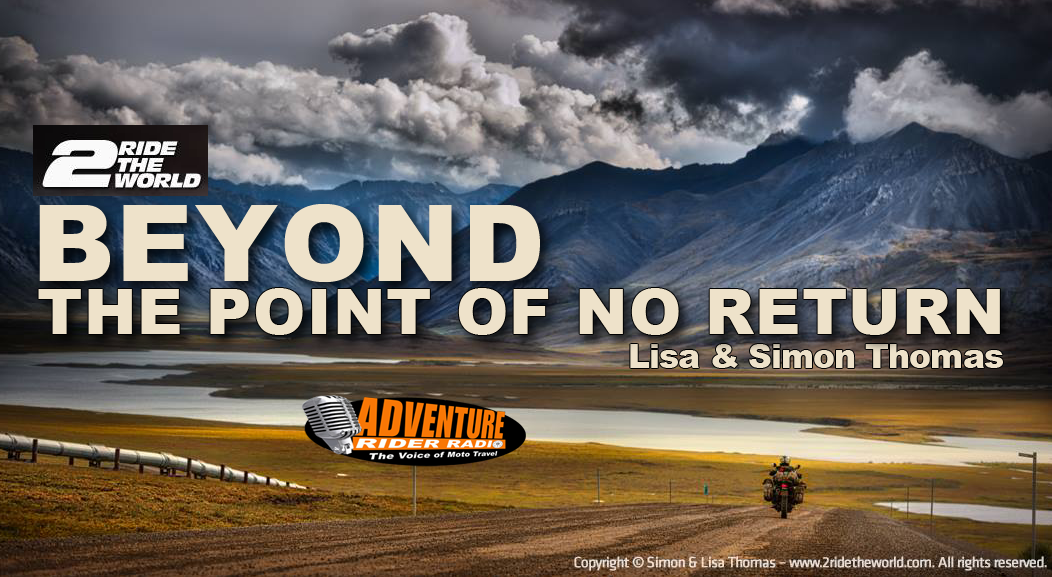 This isn't a story about a long road trip, it's about living on the road. Lisa and Simon don't think about the end of the road, or plan for a flight home, because the road is their home. They usually sleep in a tent, they cook outside, and they wouldn't have it any other way. And after 13 years of living off their bikes, with nature as their kitchen and bedroom back drop, there are no plans to settle down, at least not yet and who knows if ever?

Lisa and Simon are seasoned travellers, they are truly pioneers of the adventure motorcycling industry. When they started riding, social media was non existent, there was no twitter, youtube or facebook. If people were riding around the world, they were doing it at a time when you probably had to learn from books, or by talking to other riders or travellers. Information on motorcycle adventure travel wasn't as prevalent on the internet in 2003 as it is now.
The Thomas' have paved the way for many motorcyclists looking for inspiration or role models. Their knowledge and experience speaks volumes, whether its about connecting with people, fitting in with different cultures, making a living on the road, or cooking a great meal, and they have some great tips and advice for anyone planning or already on their trip, be it solo or as a couple.

Watch for the book Dirty Dining, An Adventurers Cookbook by Lisa Thomas - coming soon!
Website: http://2ridetheworld.com/
Facebook: https://www.facebook.com/2ridetheworld/
ARR is Brought to You By:
Max BMW Motorcycles
Shop our Online Store featuring parts diagrams for every BMW model. Ordering parts and accessories has never been easier. Choose your bike, look at the diagrams and place your order. We have over 45,000 parts in-stock and our Parts Express team processes and ships orders six days a week via UPS, FedEx and USPS.
www.maxbmw.com
BestRest Products
Home of the CyclePump Tire Inflator, TireIron BeadBrakR, EZAir Tire Gauge, and other adventure motorcycle gear.
When you're on the road you'll want a compact and reliable method of tire inflation. The CyclePump runs off your bike's electrical system and it'll fill a flat tire in less than 3 minutes. It's made in the USA and it comes with a 5-year warranty.
BestRest also makes tire changing and tire repair kits that are small enough to fit in your saddlebag.
The crew at BestRest are adventure riders themselves, so they know what you'll need when you're exploring the world.
www.CyclePump.com
Aerostich
The best way to ride more is to make riding your easiest, fastest way to get from A to B…simple everyday commuting and errands, long-distance adventure riding, or whatever. For 33 years Aerostich has been designing, making and selling equipment that makes riding anywhere, in all-weather – easier, safer, more comfortable and more fun. No other riders' gear offers the proven protection, precise fit or lifelong value of an Aerostich. Prove it to yourself with the Ride-More Guarantee. If you try any Aerostich one piece R-3 or Roadcrafter Classic suit for one month, and are not riding more than you did before receiving it, send it back and you will receive a full refund, no questions asked. For complete details and to view all of the available equipment for riders, and for a 10% discount on your first Aerostich purchase, or free shipping on the next order for existing customers, visit www.aerostich.com/arr.
Tour USA Motorcycle Rentals & Tours
Tour USA is a motorcycle rental company based near Seattle, Washington in the USA. The perfect launching point for any trip along the west coast of the United States and Canada, boasting top world destinations for adventure riders from all over the world.
Tour USA bikes are all equipped with protection for ADV travel and pelican panniers to ensure less potential of damage in a tip over.
Whether you want to rent a few ADV prepped bikes and travel solo or participate in a fully supported event with trainers, guides and support vehicles, they are the people to make your dream ride come true. (Partnered with PSSOR.com)
Let TourUSA help you dream – plan – ride!
www.tourusa.us & www.advcamp.com
Green Chile Adventure Gear
Offering American made heavy-duty, innovative motorcycle luggage systems for all types of motorcycles. Tested in extreme weather conditions and terrain to withstand any abuse you can throw at it on your adventure rides.
To complement riders' needs they are also the exclusive USA distributor of Outback Motortek, a Canadian company specializing in adventure and touring motorcycle protective accessories. Outback Motortek offers ultimate and essential protection for your adventure bike. These accessories could be your best investment to save you from replacing your damaged bike with the ever-expensive factory parts. Available at www.GreenChileAdv.com.
Hermy's Triumph - Tires & Cycle
Family owned and operated, Hermy's Triumph has been around since 1963, one of the oldest Triumph dealers in the United States. The adventure specialists at Hermy's have been there for generations with over 5 million miles of riding between them.
Hermy's Triumph has a full service department, offering service loaners, as well as an online store shipping parts world-wide. To find out more about Hermy's motorcycles and parts check them out at www.hermys.com.
And visit Hermy's online store at www.triumphEstore.com and use the code ARR to get 10% off your order plus free shipping in 48 states.
PROMO CODE: ARR