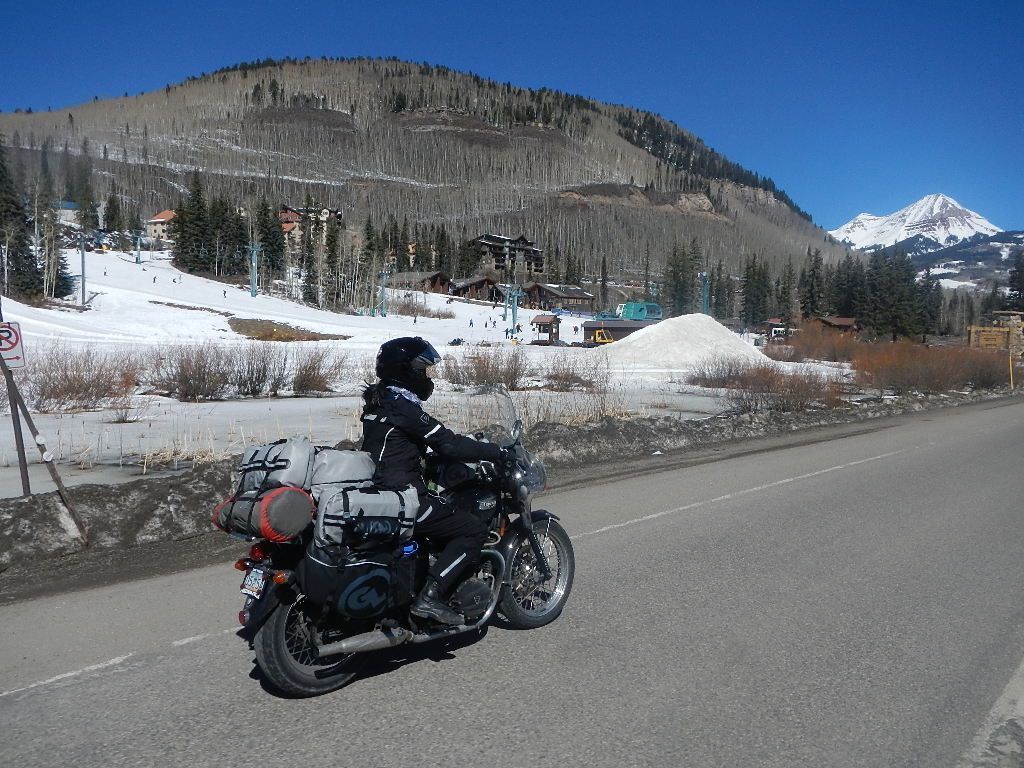 World Rider Wanderlust - Danell Lynn
Danell Lynn is a motorbike adventure rider that has travelled around the world doing humanitarian work. She, shares her creative side to help children with healing through art, donates her children's books to schools, and quilts to those in need. Danell has recently been awarded the Guinness World Record for Longest Journey by Motorcycle in a Single Country. A solo trip through 50 states in one year. Certainly, a person who gives so freely of herself to others is deserving of being awarded such an accomplishment!
Twitter: danelllynn
Facebook: https://www.facebook.com/danell.lynn
Website: www.DanellLynn.com
https://danelllynn.wordpress.com
Youtube Channel: www.youtube.com/user/danelllynn
A Story Worth Living
A documentary where six novice riders try to find the answers to some of life's deepest questions.
**This is not a review and Adventure Rider Radio does not favour, recommend or endorse any commercial films.
Max BMW Motorcycles
Shop our Online Store featuring parts diagrams for every BMW model. Ordering parts and accessories has never been easier. Choose your bike, look at the diagrams and place your order. We have over 45,000 parts in-stock and our Parts Express team processes and ships orders six days a week via UPS, FedEx and USPS.
www.maxbmw.com
BestRest Products
Home of the CyclePump Tire Inflator, TireIron BeadBrakR, EZAir Tire Gauge, and other adventure motorcycle gear.
When you're on the road you'll want a compact and reliable method of tire inflation. The CyclePump runs off your bike's electrical system and it'll fill a flat tire in less than 3 minutes. It's made in the USA and it comes with a 5-year warranty.
BestRest also makes tire changing and tire repair kits that are small enough to fit in your saddlebag.
The crew at BestRest are adventure riders themselves, so they know what you'll need when you're exploring the world.
www.CyclePump.com
Aerostich
The best way to ride more is to make riding your easiest, fastest way to get from A to B…simple everyday commuting and errands, long-distance adventure riding, or whatever. For 33 years Aerostich has been designing, making and selling equipment that makes riding anywhere, in all-weather – easier, safer, more comfortable and more fun. No other riders' gear offers the proven protection, precise fit or lifelong value of an Aerostich. Prove it to yourself with the Ride-More Guarantee. If you try any Aerostich one piece R-3 or Roadcrafter Classic suit for one month, and are not riding more than you did before receiving it, send it back and you will receive a full refund, no questions asked. For complete details and to view all of the available equipment for riders, and for a 10% discount on your first Aerostich purchase, or free shipping on the next order for existing customers, visit www.aerostich.com/arr.
Puget Sound Safety Off Road
PSS Off Road provides world class motorcycle training to new and avid motorcyclists. Since 1996 they have been dedicated to offering programs that suit the interests and needs of adventure, dual sport and dirtbike riders. Their training programs are skill focused, catering to all types of bikes and riders. Learn from top notch instructors with decades of riding and travel experience. Riders aged from as young as 6 to 60+ will benefit from one of their multi-day training camps or tours.
www.pssor.com
A Story Worth Living, BMW, BMW F800 GS, And Sons Magazine, www.andsonsmagazine.com, www.astoryfilm.com, Colorado, novice, John Eldredge, Sam Eldredge, Blaine Eldredge, Luke Eldredge, Dan Allende, Jon Dale, rider, motorcycle, motorbike, travel, traveller, traveler, documentary, adventure, moto, world travel, endurance, dual-sport, off-road, Danell Lynn, humanitarian, Guinness world record, Max BMW, Bestrest, Giant Loop, Aerostich, PSSOR, Puget Sound Safety Off Road, Bret Tkacs, Good Adventure Company, JJ Lewis, 2016-a