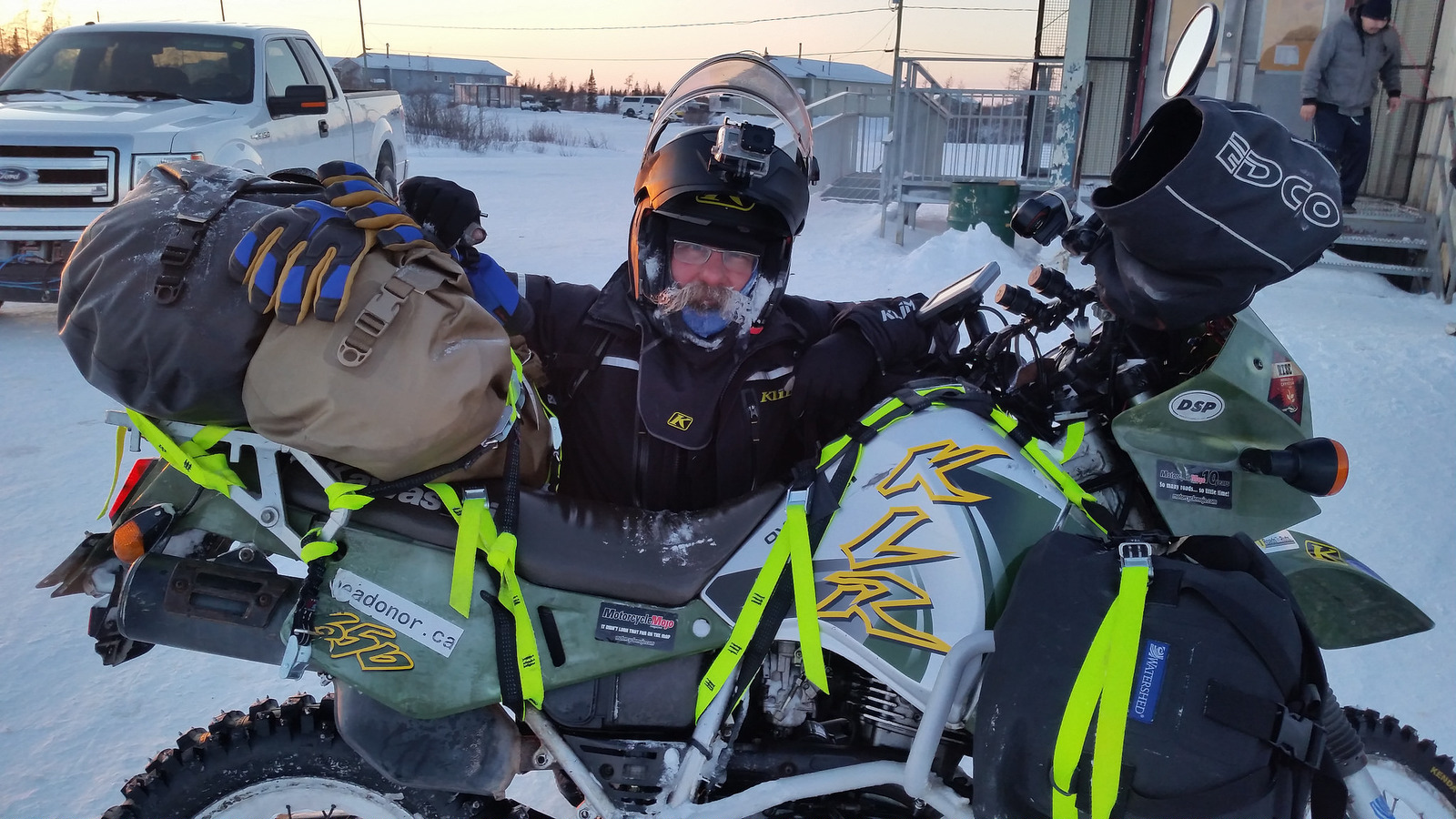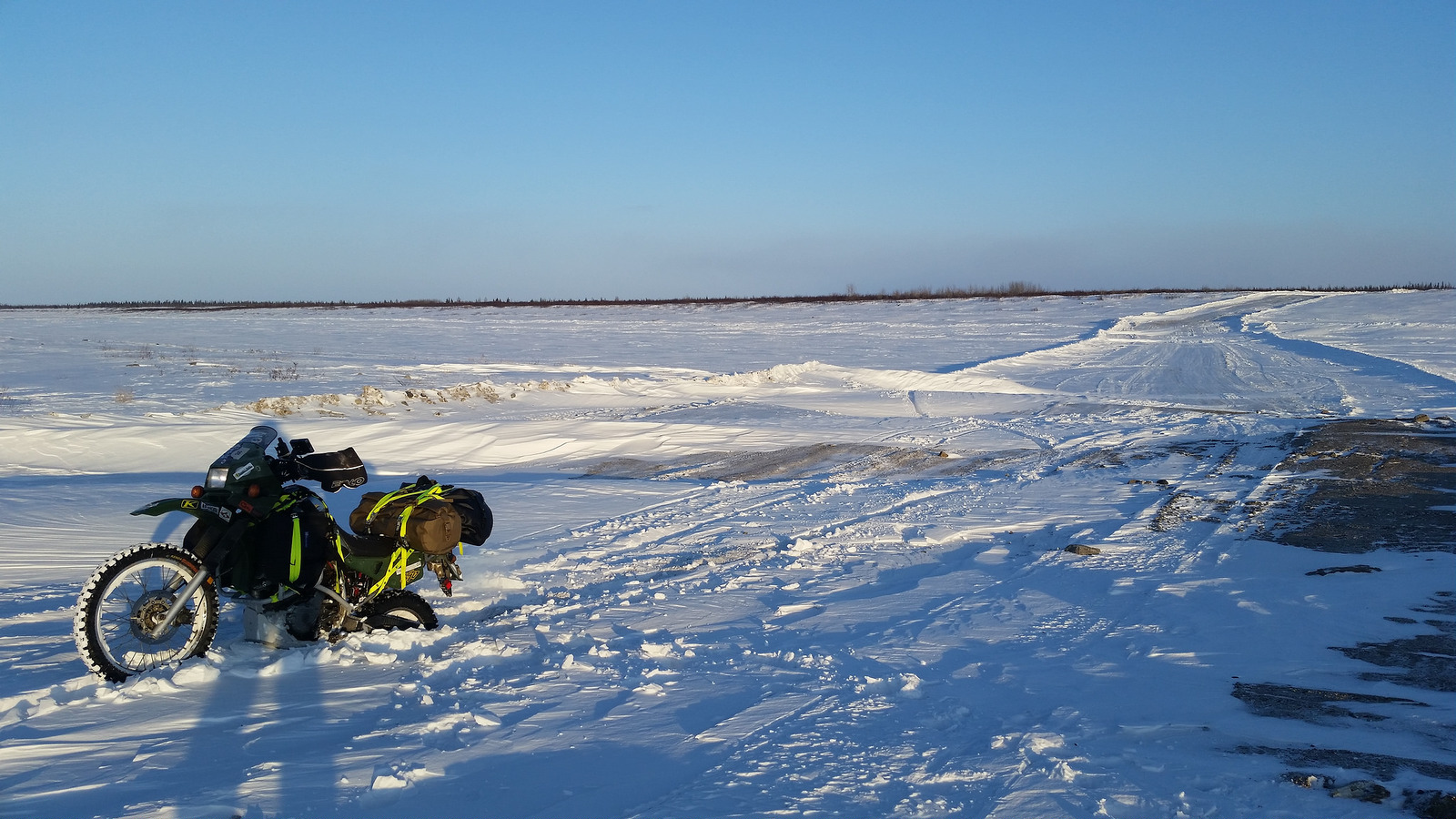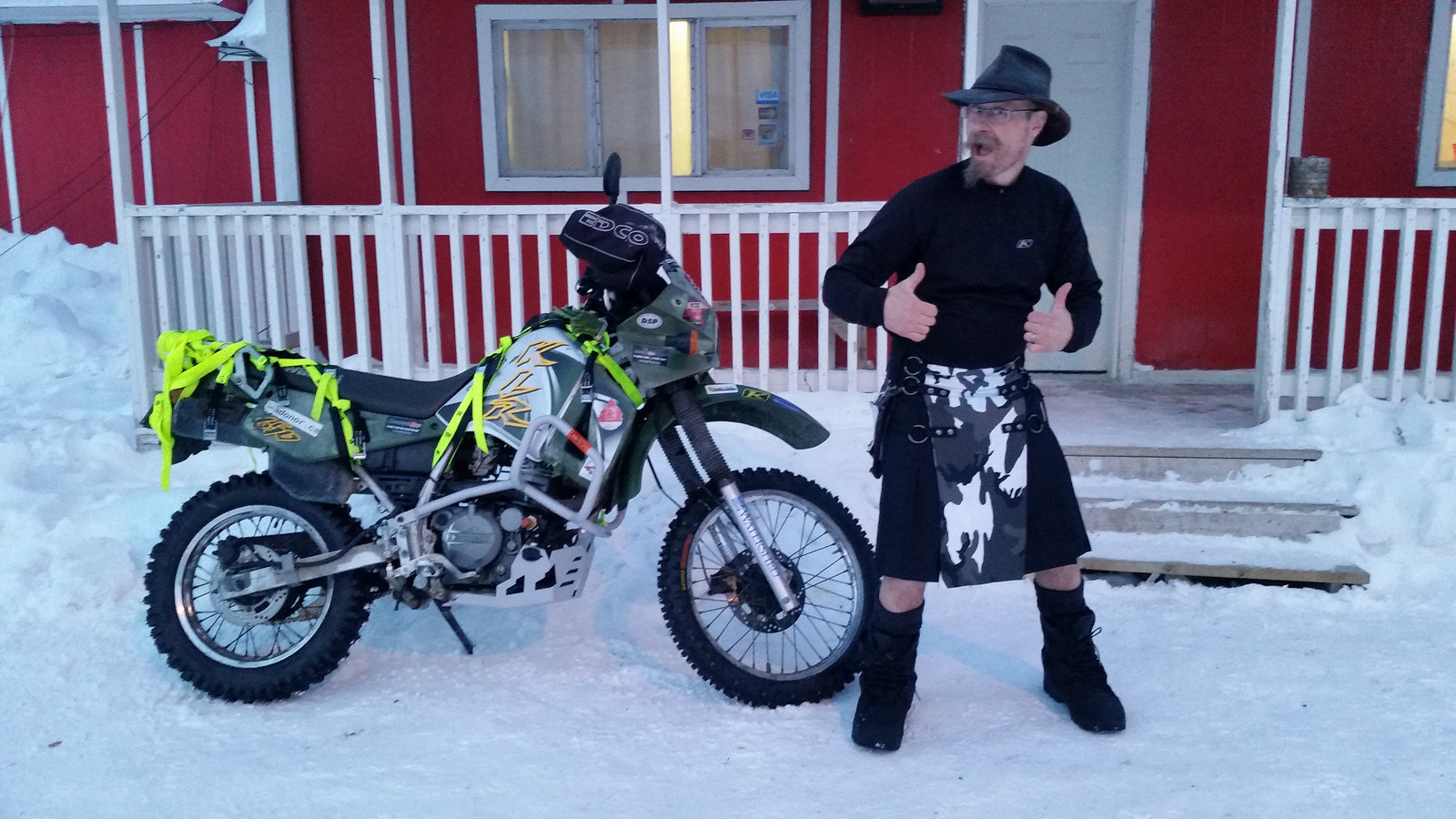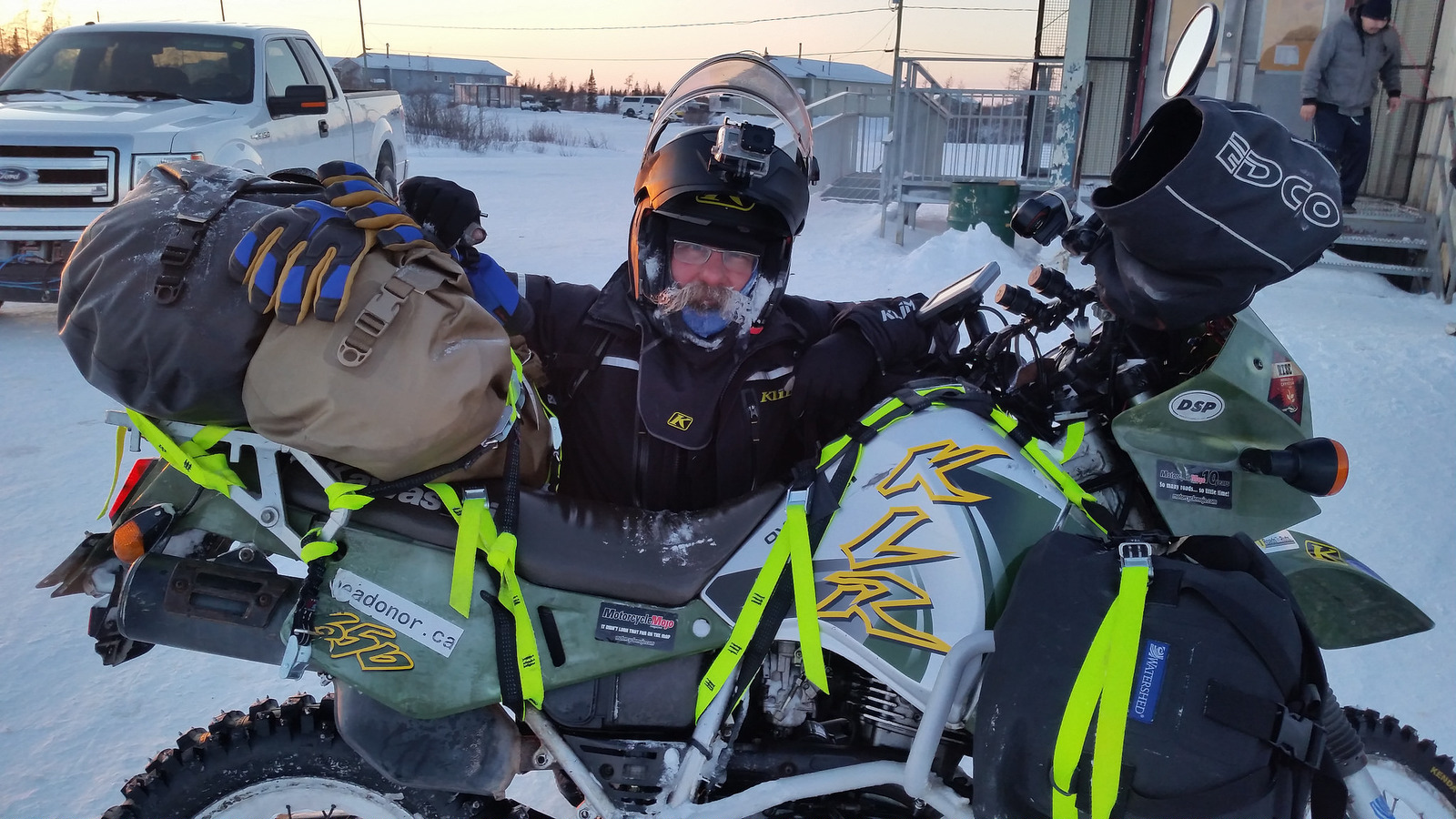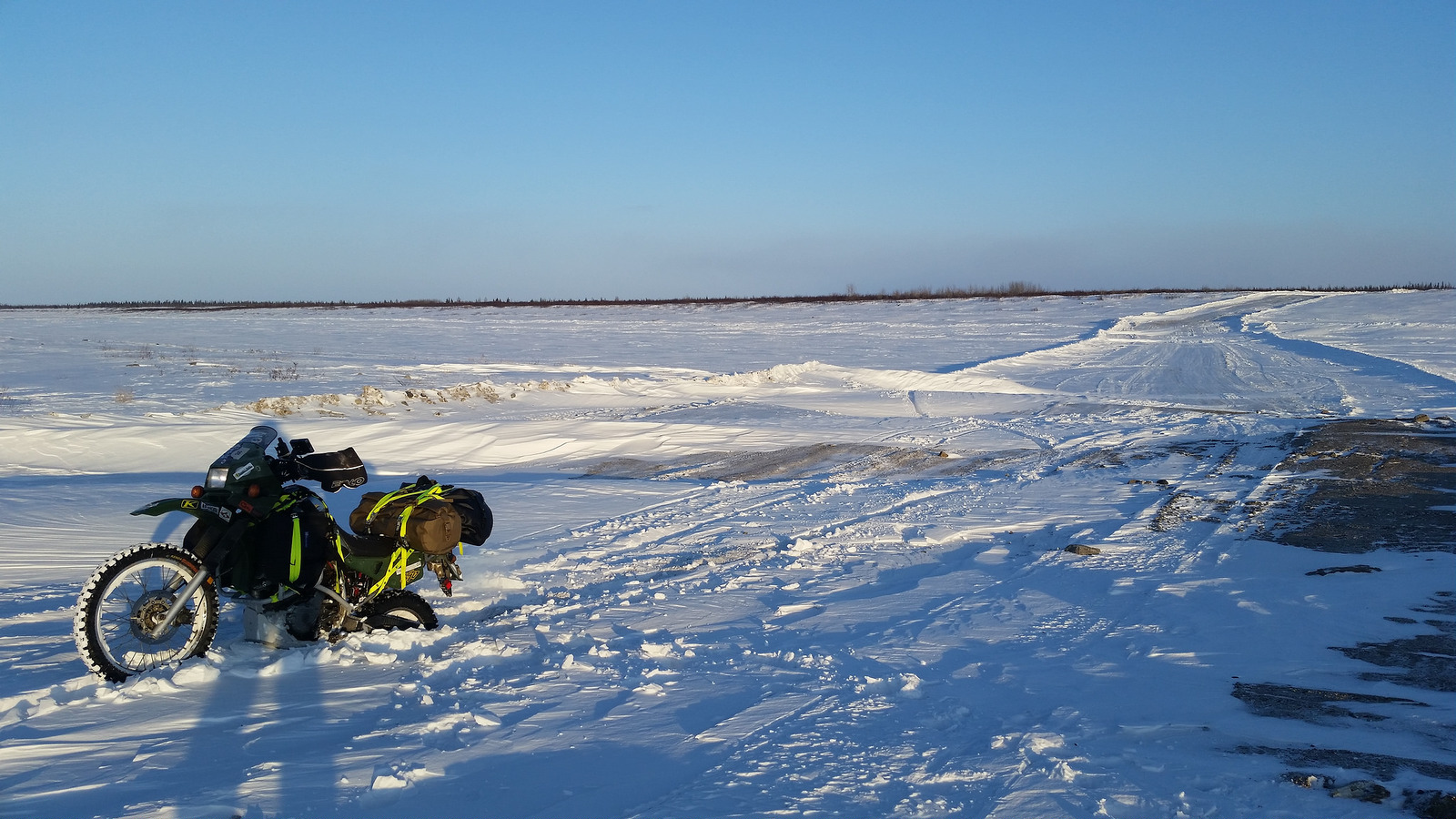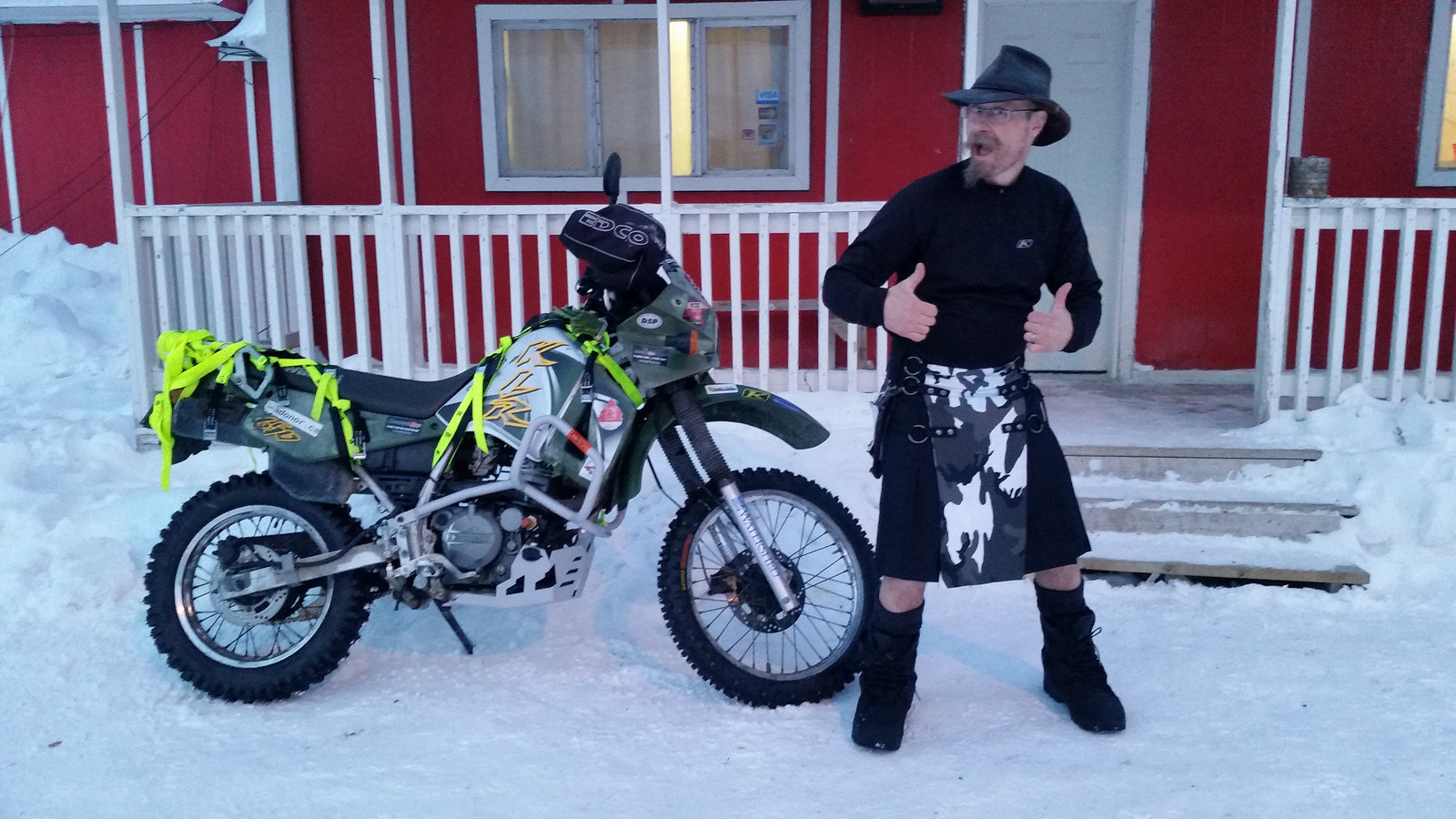 This week we talk to Oliver Solaro aka Brokentooth, who is always up for a challenge, especially when it comes to his KLR 650 and ice or water. Bret Tkacs, motorcycle riding instructor from PSSOR gives some great tips on how to turn your bike in tight situations. And Sam Manicom gives us a ride report on his motorcycle tour in the United States.
Oliver Solaro - BrokenTooth - A KLR 650 & a Pontoon Boat?
Oliver Solaro doesn't let much stop him from enjoying life, and from doing what he wants to do. For Oliver, it's all about having fun and doing things most people wouldn't even dream about doing. He's been on several different winter trips on his motorcycle, and now he's modified a pontoon boat to carry his KLR 650 on his latest adventure. He casts an unusual appearance as he wears a cavalier hat with a feather, as he travels the waters in Ontario on the boat. Oliver plans to trace some of the route that the explorer, Samuel de Champlaine, the founder of Quebec City and an important historic figure in Canada, travelled when he founded New France. We know what you're asking... what exactly is Oliver doing? And how does a motorcycle and a boat go together?
Facebook: Oliver Solaro
Instagram: https://www.instagram.com/bwokentoof/
Website: http://www.thebrokentoothproject.com/
Rider Skills - Turning Your Bike in Tight Spaces - Bret Tkacs
Bret Tkacs, a professional motorcycle instructor for 18 years, has a wealth of information and experience when it comes to understanding how to maneuver your bike in any situation, both on and off road. In this episode he gives a lesson on how to turn your bike in tight spaces. The next time you find yourself riding on a tight trail or in a hair raising narrow situation, you can put some of Bret's tips in this episode to good use.
Website: www.pssor.com
Power turns
Slide turn
Pivot turn (& Standing pivot)
Trail turn (limited space with hills)
Manual turns
Side stand turn (Shovel, Rock & Wood)
Handlebar pull
Assisted turns
Z-drag
Winch
Tow strap pivot
Sam Manicom - Tour USA 2016
ARR is Brought to You By:
Max BMW Motorcycles
Shop our Online Store featuring parts diagrams for every BMW model. Ordering parts and accessories has never been easier. Choose your bike, look at the diagrams and place your order. We have over 45,000 parts in-stock and our Parts Express team processes and ships orders six days a week via UPS, FedEx and USPS.
www.maxbmw.com
BestRest Products
Home of the CyclePump Tire Inflator, TireIron BeadBrakR, EZAir Tire Gauge, and other adventure motorcycle gear.
When you're on the road you'll want a compact and reliable method of tire inflation. The CyclePump runs off your bike's electrical system and it'll fill a flat tire in less than 3 minutes. It's made in the USA and it comes with a 5-year warranty.
BestRest also makes tire changing and tire repair kits that are small enough to fit in your saddlebag.
The crew at BestRest are adventure riders themselves, so they know what you'll need when you're exploring the world.
www.CyclePump.com
Aerostich
The best way to ride more is to make riding your easiest, fastest way to get from A to B…simple everyday commuting and errands, long-distance adventure riding, or whatever. For 33 years Aerostich has been designing, making and selling equipment that makes riding anywhere, in all-weather – easier, safer, more comfortable and more fun. No other riders' gear offers the proven protection, precise fit or lifelong value of an Aerostich. Prove it to yourself with the Ride-More Guarantee. If you try any Aerostich one piece R-3 or Roadcrafter Classic suit for one month, and are not riding more than you did before receiving it, send it back and you will receive a full refund, no questions asked. For complete details and to view all of the available equipment for riders, and for a 10% discount on your first Aerostich purchase, or free shipping on the next order for existing customers, visit www.aerostich.com/arr.
Tour USA Motorcycle Rentals & Tours
Tour USA is a motorcycle rental company based near Seattle, Washington in the USA. The perfect launching point for any trip along the west coast of the United States and Canada, boasting top world destinations for adventure riders from all over the world.
Tour USA bikes are all equipped with protection for ADV travel and pelican panniers to ensure less potential of damage in a tip over.
Whether you want to rent a few ADV prepped bikes and travel solo or participate in a fully supported event with trainers, guides and support vehicles, they are the people to make your dream ride come true. (Partnered with PSSOR.com)
Let TourUSA help you dream – plan – ride!
www.tourusa.us & www.advcamp.com
Green Chile Adventure Gear
The riders at Green Chile Adventure Gear know what it means to have high quality riding gear. They offer American made heavy-duty, innovative motorcycle luggage systems for all types of motorcycles. Green Chile's gear is tested in extreme weather conditions and terrain to withstand any abuse you can throw at it on your adventure rides.
Check out their products and see for yourself at www.GreenChileAdv.com.
Hermy's Triumph - Tires & Cycle
Family owned and operated, Hermy's Triumph has been around since 1963, one of the oldest Triumph dealers in the United States. The adventure specialists at Hermy's have been there for generations with over 5 million miles of riding between them.
Hermy's Triumph has a full service department, offering service loaners, as well as an online store shipping parts world-wide. To find out more about Hermy's motorcycles and parts check them out at www.hermys.com.
And visit Hermy's online store at www.triumphEstore.com and use the code ARR to get 10% off your order plus free shipping in 48 states.
PROMO CODE: ARR