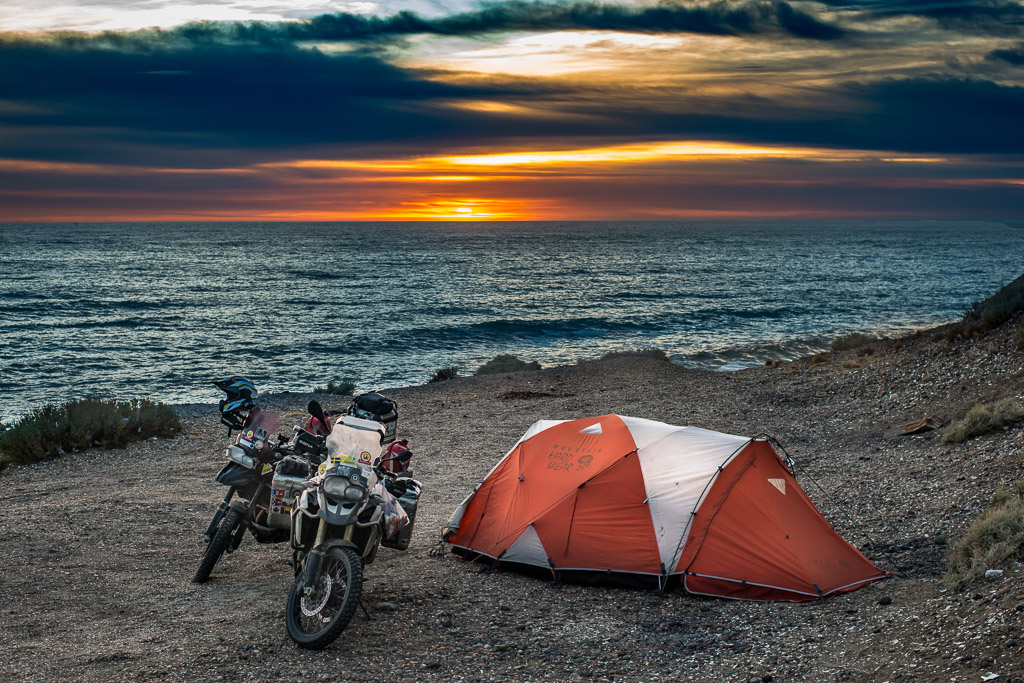 When One Year Turns in to Three - Petra and Anders Stridfeldt
With their three sons grown and moved out, Petra and Anders felt what they called boredom, that loss we all feel when we've worked and lived to raise our families, and then being needed comes to an end. So they came up with a plan to ride their motorcycles around the world. They quit their jobs, sold their house, car and most of their belongings and in 5 months were on the road. They only planned to be gone a year, maybe a year and a half, but three years later they are still riding, having explored 40 countries and ridden about 108,000 km. And it doesn't look like there's an end in sight for Petra and Anders motorcycle adventure. Jim caught up with them in Sao Paulo before they leave for Europe and Africa.
Twitter: 2bikers1world
Facebook: https://www.facebook.com/TwoBikersOneWorld/?fref=ts
Website: twobikersoneworld.com
Youtube Channel: www.youtube.com/channel/UCuIvncoQOki-jfVyhhLVyjw
Rider Skills - Handling Your Bike When You're Not Moving
A lot of riders struggle moving their bikes around, loading them on to trailers or vehicles, into hotel lobbies around their garages or even just parking them. Bret discusses the mechanics behind handling your bike in these situations.
- Understanding balance
- Using leverage in place of brute force
- Using the body to brace
- Using neutral balance concepts
- Controlling fear
- Using body weight, movement and leverage
- Dealing with tall saddles and dismounting
- Dismounting under motion
- Dismounting when stopped
- High side vs low side
- Handlebar position
- Use for gears or brakes
- When to use the side stand
- Using center stands, techniques and tricks for heavily loaded bikes
- Standard technique for using side stand
- Using terrain features to ease the use of side stand
- Tricks for chain maintenance (using power to dig a free-roll trench)
- Maneuvering a bike manually (no power vs with power)
- Hotel lobbies
- Garage spaces
- Loading ramps
- Using center stand and side stands for pivoting
Instructor: Bret Tkacs from PSSOR
www.pssor.com
ARR is Brought to You By:
Max BMW Motorcycles
Shop our Online Store featuring parts diagrams for every BMW model. Ordering parts and accessories has never been easier. Choose your bike, look at the diagrams and place your order. We have over 45,000 parts in-stock and our Parts Express team processes and ships orders six days a week via UPS, FedEx and USPS.
www.maxbmw.com
BestRest Products
Home of the CyclePump Tire Inflator, TireIron BeadBrakR, EZAir Tire Gauge, and other adventure motorcycle gear.
When you're on the road you'll want a compact and reliable method of tire inflation. The CyclePump runs off your bike's electrical system and it'll fill a flat tire in less than 3 minutes. It's made in the USA and it comes with a 5-year warranty.
BestRest also makes tire changing and tire repair kits that are small enough to fit in your saddlebag.
The crew at BestRest are adventure riders themselves, so they know what you'll need when you're exploring the world.
www.CyclePump.com
Aerostich
The best way to ride more is to make riding your easiest, fastest way to get from A to B…simple everyday commuting and errands, long-distance adventure riding, or whatever. For 33 years Aerostich has been designing, making and selling equipment that makes riding anywhere, in all-weather – easier, safer, more comfortable and more fun. No other riders' gear offers the proven protection, precise fit or lifelong value of an Aerostich. Prove it to yourself with the Ride-More Guarantee. If you try any Aerostich one piece R-3 or Roadcrafter Classic suit for one month, and are not riding more than you did before receiving it, send it back and you will receive a full refund, no questions asked. For complete details and to view all of the available equipment for riders, and for a 10% discount on your first Aerostich purchase, or free shipping on the next order for existing customers, visit www.aerostich.com/arr.
Puget Sound Safety Off Road
PSS Off Road provides world class motorcycle training to new and avid motorcyclists. Since 1996 they have been dedicated to offering programs that suit the interests and needs of adventure, dual sport and dirtbike riders. Their training programs are skill focused, catering to all types of bikes and riders. Learn from top notch instructors with decades of riding and travel experience. Riders aged from as young as 6 to 60+ will benefit from one of their multi-day training camps or tours.
www.pssor.com
Green Chile Adventure Gear
Offering American made heavy-duty, innovative motorcycle luggage systems for all types of motorcycles. Tested in extreme weather conditions and terrain to withstand any abuse you can throw at it on your adventure rides.
To complement riders' needs they are also the exclusive USA distributor of Outback Motortek, a Canadian company specializing in adventure and touring motorcycle protective accessories. Outback Motortek offers ultimate and essential protection for your adventure bike. These accessories could be your best investment to save you from replacing your damaged bike with the ever-expensive factory parts. Available at www.GreenChileAdv.com.